Matt Smith Photo
Hi there and welcome to my website. This is a repository of work that I undertake as part of my own research. I work at the University Centre Leeds (Leeds City College/Luminate Group) Lecturing and Leading the Foundation Degree and BA Hons Photography Courses. This website is to show the personal photographic work and research that I do outside of my day job. I undertake personal projects and some commercial projects, along with group tuition.
I am interested in any kind of photography so long as it is creative and is executed with passion. If you would like to comment about my work, have an interest in my projects or would like to share a link, please feel free to contact me via the contact me tab or click here.


Matthew Smith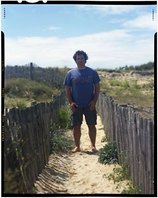 Contact me
If you would like to contact me about my work or to discuss ideas, feel free to message me. I will endeavour to reciprocate in a timely manner.